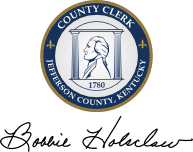 Jefferson County Clerk's Office
2022 Tax Bill Sale Procedures
The following procedure is revised and effective March 22, 2023: The Jefferson County Clerk's Office (JCCO) will receive the official list of current year delinquent taxes from the Jefferson County Sheriff's Office on April 17, 2023. The policy was revised pursuant to KRS 134. This statute can be reviewed at www.lrc.ky.gov/KRS/134-00/CHAPTER.HTM
The list of all delinquent tax bills from 2000-2021 can be accessed from our File Transfer Protocol (FTP) site.
Follow this link for instructions on accessing the FTP site.
There will be a list of 2022 bills as advertised at JeffersonCountyClerk.org on June 21, 2023. You can also use the TaxMaster.net link located on this website to review delinquent taxes on properties.
The following is a list of procedures that must be followed, in order, to participate in our tax sale as well as the format of the sale.
---
Mail all documentation to:
Jefferson County Clerk
Attn: Delinquent Tax Department
527 W Jefferson Rm 100
Louisville, KY 40202